AGILE COACHING & Training SERVICES
Agile coaches provide day-to-day guidance to managers and teams; ensuring that agile practices take a stronghold within teams and across the enterprise. They craft the basic steps to adopt agile and help your teams work their way through the agile maturity model.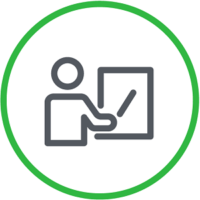 Tiva Systems mentors bring broad experience to help teams maintain a strategic distance from the pitfalls and march towards a agile triumph. From the ABCs of agile practices to re-engineering the most complex pre-agile processes, our agile coaches collaborate with your teams that need this assistance the most.
Tiva Systems trainers specifically design the curriculum and sessions that benefit your development arsenal cross over the "line of agility". Once your teams cross that line, our trainers can help your climb through the "agile maturity level" until your executives are fully satisfied with the ROI of their investment into agile coaching and training services.
Comprehensive Coaching
Tiva runs agile coaching deep as well as broad ... end-to-end and tailored for your teams' needs. We custom design your coaching needs and bring in the right kind of coach for you.
---
Workflow Coaching
Workflow coaches focus on waste and obstacles in your development flow and work on specific ways to address those. Streamlining agile workflow requires a lot of rework of existing processes and our coaches help your teams tackle those challenges.
Technical Coaching
Technical coaches focus on specific agile and lean tools and techniques ranging from Continuous Integration to Continuous Deployment. They teach the best practices and evolving landscape of industry's more popular agile tools, like Atlassian and CA Agile.
Types of Coaches
We have arranged our coaches into four categories. One of them should be able to address the growing agile needs of your organization.
Agile Team Coaches
Agile Team Coaches work with individual groups to help them execute and enhance agile practices. Their main focus is to help each team member understand their roles and responsibilities towards a common team goal as well as team level practices. From sprint planning, through scrums and standups, to retrospectives — team coaches help teams institute a strong discipline for building lean software and deliver rock solid software products.
Senior Agile Coaches
Senior Agile Coaches bring a broader-level coaching practice where different teams need to work together towards a common organization goal. Across product management, project management, user experience, product design, manufacturing and customer support — our senior coaches help software development leaders help other teams think and do agile; regardless of those organization's agile applicability or maturity.
Agile Technical Coaches
Agile Technical Coaches focus on specialized agile tools and techniques for both product developers and project administrators. They help develop necessary ways of working and processes such that all stakeholders in the organization work through consistent tracking, monitoring and metrics. They have deep expertise in CI / CD, DevOps as well as Atlassian and Rally. When necessary, our technical coaches can go deep into specific development practice, such as, Test Driven Development (TDD) or eXtreme Programming (XP).
Enterprise Agile Coaches
Enterprise Agile Coaches are the most experienced coaches who have transformed and successfully shown ROI for agile practices to the senior executives. They understand the complexities and interplay between different forces that make an Enterprise-wide agile transition an extremely challenging task. Our Enterprise Agile Coaches work at the Enterprise-level encompassing agile approach to Enterprise Architecture, IT framework, Common SCM practices and Portfolio management. They coordinate with senior agile coaches to bring an Enterprise-wide evolution, embracing agile practices across different departments and focusing on product development — all together delivering measurable return and profit to the executives.
Agile Training Services
Tiva Systems Agile Training Services give development teams, managers, and the entire enterprise the tools to deliver business value faster.
Agile Whole Team Training
Agile Whole Team Training provides a complete introduction to the principles and practices of agile, as well as scrum, kanban, and the technical practices of XP. Newcomers will gain a gain a basic understanding of agile and initial training in its practices. Participants with agile experience will refresh their knowledge of the fundamentals.
Top-to-Bottom Agile Education
Tiva Systems offers a comprehensive set of courses and hands-on agile workshops that: